U -235 (AKA TORPEDO)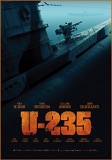 Trailer · Background Material · Pictures · Official Site
Starring:
Koen de Bouw, Thure Riefenstein, Elle- June Henrard, Joren Seldeslachts, Sven De Ridder, Stefan Percevalm Bert Haelvoet, Martin Semmelrogge
Directed by:
Sven Huybrechts
Produced by:
Hendrik Verthe, Kobe Van Steenberghe

Synopsis:
A team of Belgian resistance fighters are on a secret mission during WWII. Bring with a kidnapped German Submarine the needed Uranium for the Manhattan Project,from Belgian Congo to New York. Loosely based on true facts.

Official Site:
Go To Site
Trailer:
Watch the Trailer
IMDB:
Go To IMDB