ATC - Anti Terrorist Cell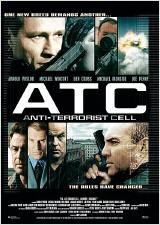 Trailer · Background Material · Pictures · Official Site · Flyer [568 KB]
directed by Jerry Jameson (JAG, Lazarus Man, Walker Texas Ranger, Sniper, Starflight One, Raise the Titanic, Airport etc.) and Joe Copello
produced by: Jan Fantl, Philipp Menz
Executive Producers: Sonny Grosso, Larry Jacobson, Steven Whitney, Frank Hübner. Co-Producers: Norbert Blecha, Terry Thompson

starring Arnold Vosloo, Michael Ironside, Ben Cross, Michael Wincott, Joe Penny, Colin Salmon, Gregor Toerzs, Fritha Goodey, Alexandra Kamp, Adrienne Pierce, Ron Smerczak, Maria Lennon a.o.

two movies of 92 Minutes each - created & written by Terry Thompson & Steven Whitney

ARNOLD VOSLOO played "Colonel Coetzee" in "Blood Diamond" and "Habib Marwan", Jack Bauer's nemesis, in season 4 of FOX' blockbuster series "24"

When the red phone rings, the Anti-Terrorist-Cell, code named "AT13" goes into action. Covertly created and financed by an international consortium of governments and wide-ranging private interests, AT13 represents the last line of defense against worldwide terrorism. A secured hi-tech computer line, AT13 accesses only terrorist activity already investigated and verified by - but beyond the grasp of - any one of a number of international police, special security, and military agencies, so its urgent signal raises the alarm on a clear and present danger - an explosive situation that only AT13 can defuse. Headed by Jack Darrow, the group is assembled from special units throughout the entire commonwealth of nations - the men and woman of AT13 are the very best in their respective specialties. But they are also renegades, marching to a different drumbeat of justice, one above and beyond the call of "regular duty". Forming what is, essentially, the first truly international police force, they employ wide ranging (although officially hidden) powers springing from a simple mandate - to track down, combat and defeat terrorism in all its ugly faces. The heart of these new dramatic movies lies in the life or death cases of AT13, most of them taken from actual case files. Its soul lives in its colorful and disparate characters - their public and private triumphs, failures, heartbreaks, joys and everything in between.

ARNOLD VOSLOO quickly established a fine reputation as an actor in his native South Africa, winning several awards there for his theatre work, including More Is In Lang Dag, Don Juan and Torch Song Trilogy. A regular performer with South Africa's State Theatre, he also played leading roles in Savages, Twelfth Night and Hamlet. His film career in the RSA brought him The Dalro Award as Best Actor for both Boetie Gaan Border Toe and Circles In A Forest, and the Dalro Best Actor Nomination for the film version of More Is In Lang Dag.

After moving to the United States, he appeared in Born In The R.S.A. at Chicago's Northlight Theatre and starred with Al Pacino in a Circle In The Square production of Salome.

Vosloo's film credits include Ridley Scott's 1492, John Woo's Hard Target (produced by James Jacks and Sean Daniel), Darkman II and Darkman III, both directed by Bradford May, George Miller's Zeus And Roxanne, Stephen Sommers The Mummy and The Mummy Returns. Equally at home on the television screen, Vosloo appeared in American Gothic for Fox and Nash Bridges for CBS.



(Manhunt - Movie one) When one of the world's leading terrorists, Van Eyck, is contracted by the 'Cartell' to kill a leading European head of state during a high level G7 meeting in South Africa, the AT13 Team is sent in to prevent a blood bath with frightening political consequences...



(Checkmate - Movie two) Vienna, the capital of Austria, is facing a nuclear disaster if the AT13 team can't stop a group of political extremists from purchasing weapon-graded uranium from the Russian mafia. It's a race against time...