Fatal Online Affair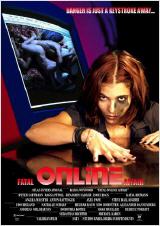 Trailer · Background Material · Pictures · Official Site
directed by: Michael Karen
starring: Katja Riemann, Katja Woywood, Peter Sattmann
produced by: Valerian Film in cooperation with Sat 1 and Studio Babelsberg Independents
Color, Running Time: 90 Minutes/Made For TV Movie

Synopsis:
Beautiful Sonja is living a carefree life, enjoying the hot nightlife of Berlin and not giving much thought of her future. Her older sister, Karin, is the more responsible one and constantly has to give her younger sister money. Sonja is so occupied with her own love life that she cannot see that Karin is desperately lonely and looking for love herself.

Karin is very busy and successful in her job and doesn't have the gift of meeting people like her younger sibling. So she explores the possibilities of finding love on the internet. Discovering the excitement of "chatting" she finds her way into a special chat-room called the "Bedroom." In the Bedroom, couples are able to make love to each other through cyber space. Sonja finally becomes curious when hundreds of roses are sent to Karin's office. But Karen won't divulge her secret and only tells her that from time to time she meets someone from the internet.

Karin leaves for a day on a business trip. When she doesn't return, Sonja realizes that there never was a business trip and goes to the police. The police, however, cannot help her with no evidence of foul play. So for the first time in her life Sonja must now take initiative to find out what has happened to her sister. With no knowledge of computers, she goes to her former boyfriend, Joseph, a computer freak, and together they find out that Karin had contact with six men on the internet on the day that she disappeared.

Sonja believes the only way to find out the truth is to follow in her sister's footsteps. She proceeds to make dates with all six suspects over the internet. When her life is threatened, she realizes the enormity of it all, and that something terrible must have happened to Karin. But Sonja is attracted to the dark side of the on-line world, just as Karin was, and in searching for clues, she falls in love with Tillmann, a member of the Bedroom. Tillmann is one of two suspects left. The other is Max, an introvert working for the internet provider Net Berlin. Sonja's worst nightmare becomes true when she breaks into Max's apartment and finds a sex video tape of Karin with a plastic bag over her head. Though her sex partner also has a bag over his head, Sonja feels certain that Max is the murderer.

At the same time, Joseph is killed in an accident, which Sonja believes was meant for her! But again, Sonja has no proof as everything looks as if to be a tragic accident.

So now it is up to her alone to find the killer. Is it the sweet loving, but married Tillmann? Or the nerd sex weirdo Max? Or a third suspect that perhaps has been overlooked? Sonja must risk her own life to find the truth.