Laser Mission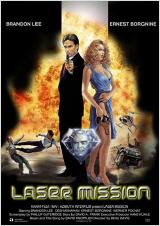 Trailer · Background Material · Pictures · Official Site · Flyer [452 KB]
directed by: Beau Davis
produced by: Klaus Czaika
starring: Brandon Lee, Ernest Borgnine, Debi Monahan, Werner Pochath,
running time: 92 minutes
music by: David Knopfler (co-founder of English Pop-Band "Dire Straits")

Synopsis:
The deadly gas works instantly: The largest diamond on earth is stolen and Professor Braun (Ernest Borgnine), the world's leading laser-weapon expert, has been abducted. Kavanga Airport: U.S. special agent, Michael Gold (Brandon Lee), is snatched by the KGB, convicted as a spy and condemned to death. Luckily, he can escape the scaffold the last second.

His assignment to retrieve Professor Braun and the diamond turns into a deadly mission, and this all for a measly sum of $ 1 million! Together with Professor Braun's beautiful daughter, Alissa (Debi Monahan), he embarks on an incredible rat race. From behind, they're chased by a pack of KGB soldiers; in front of them, they're faced with the cold blooded weapon dealer, Eckhardt (Werner Pochath), and all around them is nothing else but the scorching desert.

Eckhardt catches Michael and Alissa in a deadly trap and holds them prisoner in a diamond mine, along with hundreds of black workers, planning to blow them all sky high. The situation appears hopeless.