River Of Diamonds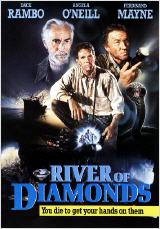 Trailer · Background Material · Pictures · Official Site
directed by: Robert J. Smawley
starring: Dack Rambo, Ferdinand Mayne, Angela O'Neill

Synopsis:
Off the west coast of Africa looms the mysterious volcanic Mercury island. The reefs off of Mercury are full of invaluable diamonds and have attracted miners for years, but the island's curse did them all in.

The belligerent, old adventurer Shelborne is the only one who knows the secret of the underground river of diamonds. As the young mining engineer, John Tregard, tries his hand at obtaining the treasures of Mercury Island, Shelborne stops at nothing to deter him.

The race is on, but not even deadly snakes, decaying corpses or mysterious deaths can stop this daring go-getter from claiming the islands treasures for himself.