The Murder in China Basin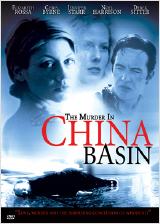 Trailer · Background Material · Pictures · Official Site
directed by: Norman Gerard
produced by: Peter Maris, Herb Linsey, Paul Zulkowitz
starring: Elizabeth Rossa, Chris Byrne, Jennifer Starr, Derek Sitter, Eric Etebari
89 minutes, Dolby 5.1

"An impressive L.A.-set tale of seduction and betrayal ...erotic content and offbeat touches...boasts all the trappings of neo-noir...Harrison shines." -- VARIETY

Synopsis:
An erotic and lyrical whodunit which begins when George Guest (NOEL HARRISON) is found murdered in China Basin - an estuary where illegal Chinese emigrants hid from authorities at the turn of the century.
George is a man into his music with little time for his trophy wife Allison (JENNIFER STARR). Until his untimely death, George had been living a life in search of an audience for his music. Allison toys with other men for amusement. One such mark is Steve (CHRIS BYRNE), an upholstery shop owner with expensive tastes. Allison seduces and promises Steve a shot at her husband's wealth.

Steve becomes a "suspect with a motive" as the police like to say, and he elicits help from his ex-wife Claire (ELIZABETH ROSSA), a washed-out cop.

The story is Claire's, and true to Chandleresque narratives, there are plot turns and twists within twists. Claire, a fool for love, travels to the nether world where anything goes and finds herself close to death in an effort to uncover George's true killer and free Steve, the man she loves. The whodunit is inspired by "Body Heat" "Shoot the Piano Player" and "Who's Afraid of Virginia Wolf." The film is structured in a musical round.