The Sword and the Sorcerer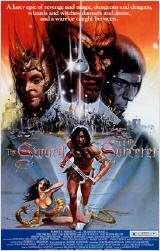 Trailer · Background Material · Pictures · Official Site · Flyer [505 KB]
directed by: Albert Pyun
produced by: Brandon Chase
starring: Kathleen Beller, Lee Horsley, Richard Lynch, Simon MacCorkindale, George Maharis, Richard Moll, Anthony De Longis,
running time: 97 minutes

Synopsis:
Twenty years ago, the ruthless King Crudell of Aragon joined arms with an ancient sorcerer and thus managed to kill his greatest adversary, the wise King Richard and his beautiful wife.

Now prince Talon, Richards son, has grown into a mighty warrior and armed with a mythical three-bladed sword, his only wish is to avenge the death of his parents...

A classic of it's genre, "The Sword and the Sorcerer" grossed $36,714,025 at the US boxoffice in 1982.

In 1983, it was nominated for a total of six Saturn Awards, with Richard Lynch winning the award for Best Supporting Actor.