Lara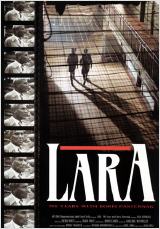 Trailer · Background Material · Pictures · Official Site · Flyer [423 KB]
directed by: Jurai Herz
starring: Olga Ivinskaja
produced by: Karel Dirka
genre: Documentary
narrated by: Maximilian Schell
running time: 85 minutes

Winner Bavarian Film Award - Best Documentary

A documentary on Boris Pasternak, author of the best-selling novel DOCTOR ZHIVAGO, and Olga Ivinskaja, the love of his life.

Few love stories have touched as many hearts as that of Dr. Zhivago and Lara, the story of one of the 20th century's best-sellers and of an award-winning movie. This documentary recounts the life and love of Olga Ivinskaya for Boris Pasternak from the first time they met in 1947 to his death on 30 May 1960. Boris Pasternak leaves a literary memorial to her with the character of "Lara" in Doctor Zhivago. Pasternak spent the most productive period of his life with Olga. The film is a search for the traces of an epochal encounter, of a love irrevocably intertwined with peril and loss.