Deathline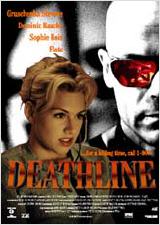 Trailer · Background Material · Pictures · Official Site · Flyer [247 KB]
directed by: Ralf Huettner
starring: Gruschenka Stevens, Dominik Raake, Claude-Oliver Rudolph, Moritz Bleibtreu, Flatz, Sophie Rois,
produced by: NDF and Pro Sieben Productions
soundtrack by: Sven Väth & B-Zet

Synopsis:

for a killing time...call 1-900-DEATHLINE

A big city by night. The streets are dark, cold and empty. Behind the dusty windows of a former china restaurant, Conny, a beautiful blonde, is improvising unusual erotic fantasies on the telephone. Conny is leading a double life. She has a boring and underpaid nine-to-five job as a nurse in a hospital but when the lights go out, she and her colleague Bibi make real money in a phone sex agency.

The two girls are best friends. Together they are strong, against the boss, against the customers. In the hospital, she has met her boyfriend Gregor (Dominik Raake), a doctor, who is unaware of Conny's secret. Conny has a very special relationship with one of her regular customers, whom she nicknames "The Cold Finger". This man claims to be an artist and wants far more than just sexual fantasies. He exploits her imagination for his erotic performances and his strange demands have a dark and powerful effect on the young woman.Conny offers him personal telephone service and in the privacy of her home, "The Cold Finger" manages to grab her most secret sexual obsessions, slowly invading her fantasies, her dreams and her thoughts. Gregor is shocked to learn of her side-job. He demands a decision - a step that Conny isn't ready to take.

The strange caller gains more and more control over her. He follows Conny everywhere. He wants more than just clean, detached sex over the phone, he wants the ultimate thrill - art, sex and violence - all melting into one...he wants to meet Conny.Then two naked women are found murdered. Conny thinks that it is her fault - that a seemingly harmless game has turned brutal reality - and she knows that he wants to possess her, all for himself, at all cost. He uses Bibi to lure Conny into a trap. Bibi is killed and Conny barely manages to escape. There is no way out from this nightmare. She agrees to play decoy for the cops. A last game of life and death begins...

DEATHLINE features an original soundtrack by two of Europe's biggest Techno stars, Sven Väth and B-Zet. The soundtrack is available on Eye-Q Records, distributed by WEA.