Mr. Deathman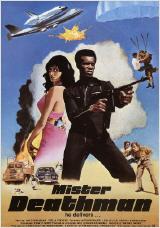 Trailer · Background Material · Pictures · Official Site
directed by: Michael Moore
starring: David Broadnax, Stella Stevens, Arthur Brauss, Brian O'Shaughnessy

Synopsis:
For years, Geoffrey Graves has been Washington's top secret agent and, has risked his life more than once in the process. Now he wants to quit. The Pentagon, however, forces him to do one last job for them: Dr. Halstead, a top scientist and head of the Space Shuttle Program is missing and, so are the topsecret construction plans.

They are to be exchanged against 50 million dollars - an awful lot of money to handle for someone who has decided to retire from the service ...