Night Of The Living Dorks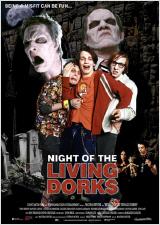 Trailer · Background Material · Pictures · Official Site · Flyer [557 KB]
directed by: Matthias Dinter
produced by: Philip Voges, & Mischa Hofmann
starring: Tino Mewes, Thomas Schmieder, Manuel Cortez, Collien Fernandes, Nadine Germann, Hendrik Borkmann
Feature, 88 Minutes

Festival-links:
Brooklyn International Film Festival 2005
Chicago Film Festival 2005
Newport Beach Film Festival 2005
Fantasia Film Festival Montreal 2005
Toronto After Dark Film Festival 2006

invited to the following festivals: Amsterdam, Dead by Dawn, Puzon, Fantasporto, Newport Beach, Seattle, Brooklyn, Fantasia Film Festival Montreal, Chicago Film Festival, Toronto After Dark...

"A zombie comedy that knocks 'em dead with offbeat genre-ribbing humor..."
(Lisa Nesselson, Variety)

"Night of the Living Dorks combines the outlandish, gruesome comedic humor of Peter Jackson's Dead-Alive with the conventions of a John Hughes comedy. The result is a fast-paced, witty concoction; part teenage fantasy, part adolescent nightmare."
(Chicago Film Festival)

"An audience favourite wherever its been shown, Night of the Living Dorks is a whacked-out, feel-good flick that totally works."
(Mitch Davis – Montreal Fantasia Film Fest)

"The 'Weird Science' of zombie movies… A riot from start to finish."
(Eric Campos, FILM THREAT)

"...a slick and polished ...production...with plenty of well-timed gags, brisk pacing, spirited performances..."
(Michael Gingold - FANGORIA)

"I cannot recommend this enough. It really is that cool!"
(Ain't it Cool News)

Synopsis:
Philip and his best friends Konrad and Weener are the three biggest losers at Frederich Nietzsche High. But when an inept voodoo ceremony by the local Goth clique leads to a fatal car accident, this trio of über-dorks returns as indestructible zombies with an insatiable appetite for human flesh, wild parties and gym class revenge. Can Philip now score with the hottest girl in school before he decomposes? Is there any personal dismemberment that can't be fixed with a stapler? And even if an antidote can be found, will it damper the uninhibited highlife of the undead?

There's tortured bullies, wild parties, virgin blood, sex, drugs, rock & roll and more in this international horror-comedy hit written and directed by Mathias Dinter that Film Threat calls the "WEIRD SCIENCE" of zombie movies…a riot from start to finish!