Alligator 2 - The Mutation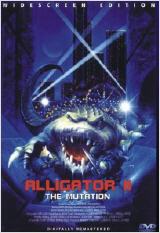 Trailer · Background Material · Pictures · Official Site
(USA 1990)
Directed By: Jon Hess
Cast: Joseph Bologna, Dee Wallace, Rychard Lynch, Steve Railsback
90 mins.

Synopsis:
In this sequel to the 80ties classic "Alligator", an alligator grows to enormous size after an unscrupulous property developer has been dumping chemicals in the sewers.

With the opening of a new lakefront community coming and the body count starting to rise, a cop, an alligator hunter and a female scientist fight to put an end to the mutant monster.