Meatcleaver Massacre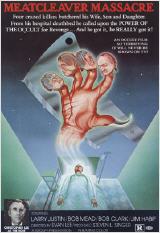 Trailer · Background Material · Pictures · Official Site
Directed By: Evan Lee
Cast: Larry Justin, Bob Mead, Bob Clark, Jim Habif
86 mins.

Synopsis:
Distinguished professor, Jonathan Billings, teaches a course in the occult at a large, South-Western University. One night, he is beaten and thought dead but survives in deep coma. Attached to a variety of life-support systems, something in his brain calls upon an ancient demon for revenge...